Perfect for All Vacationers!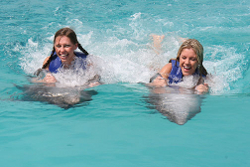 Hola, are you ready to take a Cozumel Mexico vacation? Cozumel is a perfect place because of the weather, beaches and pristine ocean. Remember, during your vacation here, you can take a dolphin swim Cozumel Mexico program and take the plunge with these majestic sea mammals.
Are you looking for a fun way to interact with dolphins and chance to snorkel on the most beautiful beach in Cozumel? You don't have to be a Marine Biologist or have to study Animal Sciences to enjoy these great animals. We have just the program for you which is only 15-20 minutes from the Cozumel Cruise Ship port and the hotel center. We offer Marine Animal programs for almost everyone to enjoy. A chance to swim with the Dolphins Cozumel or the (non-swim) Dolphin Encounter.
A dynamic and fun program, the Swim with the Dolphins Cozumel program allows you experience the magic of swimming or a shallow water experience with dolphins while you perform exhilarating activities with them. Also, you will have a chance to discover the beautiful Chankanaab Park, where you can see Mayan ruins, a fun Mexican village, or snorkel the pristine reefs. This park is only a 15 – 20 minute taxi ride from the Cozumel Cruise port. The beauty, grace and intelligence of dolphins will never cease to amaze us. It will fulfill your dreams, if you join us in one of our exciting programs in Cozumel Mexico!
Dolphin Swim Cozumel
Cozumel is an island in the Caribbean Sea off the eastern coast of Mexico's Yucatan Peninsula, opposite the Playa del Carmen, and close to the Yucatan Channel. It is one of the eight municipalities (municipios) of the state of Quintana Roo. Cozumel is a popular tourist destination renowned for its scuba diving and snorkeling.