Perfect Activity for Island Guests Only!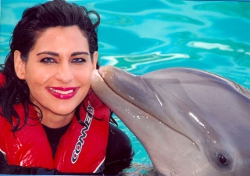 Nassau/Paradise Island is the home of the Bahamian National Capital. Nassau is a city made of history, Victorian Mansions, Cathedrals, 18th-Century Forts. Best of all, there is a Dolphin Swim Nassau Bahamas where you can participate in Deep Water and Shallow Water (non-swim) with the dolphins.
Paradise Island which is across the bridge from Nassau is one of the most glamorous and celebrated resort center in the world, combining exclusive tranquility and lots of action. Both Nassau and Paradise island are fantastic Caribbean vacation places for you and your friends and family to vacation on with some great activities that everyone can enjoy.
Sorry, Cruise Ship Passenger must book through their Cruise Ship Activity Director.
But best of all, you can Swim with the Dolphins Nassau Bahamas in crystal clear water here! We have just the program for you. We offer Dolphin Swims, Dolphin Encounter (Non-Swim), and Dolphin Swim/Sea Lion Combo Packages that anyone can enjoy. A Dolphin World program in Nassau/Paradise Island is great way to enhance your vacation on this beautiful Caribbean Island.
Blue Lagoon Island is in close proximity to Nassau and Paradise Island, it is completely secluded allowing all who visit a true opportunity to relax in a tranquil natural environment, and have a chance to get up close and personal with a dolphin. Watch, touch, feed, hug and play with the dolphins in this shallow and deep water marine adventure.
Nassau,Bahamas