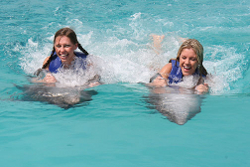 Have you thought about the Dolphin Swim Anguilla? If you said "Yes", then pack your bags and come to this jewel island in the Caribbean. This natural dolphin facility is in the sea and the dolphins live in a great environment.
These Swim with Dolphins Anguilla programs are designed to be fun, very informative, and interactive for you. This may be a great way for a family to spend quality time together, a unique and romantic experience for a honeymoon couple, or a special event for young adults learning about marine biology and land animal behaviors.
Swim with the Dolphins in Anguilla / St Martin
A dynamic and fun program, the Swim with the Dolphins Anguilla program allows you experience the magic of swimming or a shallow water experience with dolphins while you perform exhilarating activities with them. You can also catch a ferry from St. Martin which you can provide for youself. When you land on Anguilla, you will have a chance to discover this island oasis, where you can see pristine beaches, a fun Caribbean towns, or snorkel the pristine reefs. This island is only a 40 minute ferry ride from the St. Martin. The beauty, grace and intelligence of dolphins will never cease to amaze us. It will fulfill your dreams, if you join us in one of our exciting programs on Anguilla!
You need to experience the wonder of Anguilla. You can swim or stroll the white-sand beaches or the delectable local cuisine, or drop your ship's anchor and sway with the rhythm of the crystal clear ocean. We have just the dolphin program for you! We offer Dolphin Swim program for 8 years old and up and Dolphin Encounters for 1 years old up to enjoy on the beautiful island of Anguilla.