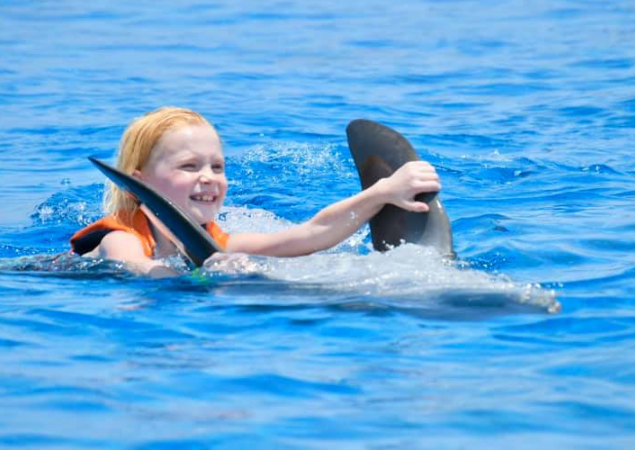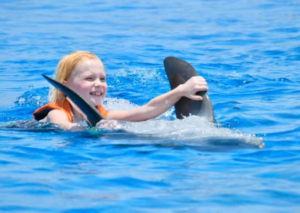 Would you love to swim with dolphins St Augustine Florida? St Augustine is one of those unique places where history meets history because St Augustine is the oldest city in the United States and the dolphin facility in St Augustine is the oldest facility in the US too. Even though the facility has had a major facelift recently and now one of the more modern facility in the US.
You don't have to be a Marine Biologist or have to study Animal Sciences to enjoy these great animals. We have just the program for you! We offer Dolphin Programs for almost everyone to enjoy, from the Dolphin Immersion for swimming with the dolphins in St Augustine, Dolphin Encounter for non-swimmers, Dolphin Trainer of the Day for the aspiring dolphin handlers, and the Dolphin Summer Camp for children and young adults.
Enjoy an up-close encounters with bottlenose dolphins, an exclusive, reservations-only tropical paradise offering a once-in-a-lifetime marine animal adventure. During a visit, you will have the rare opportunity to swim and play with bottlenose dolphins on this beautiful beach front facility. Plus, you can extend your day by either spending the day on the many beautiful surrounding beaches or a visit to historical St. Augustine. You can make it a St. Augustine vacation to remember!!
St Augustine is a small jewel of a city on the east coast, full of romantic ambiance and old world charm. It is best known for its remarkable historic streets, Spanish style architecture, and panoramic bay. Do take time to wander down St. George street, a promenade of sorts, and enjoy the art galleries, quaint shops, and restaurants. Only a few minutes way, you have a chance to swim with the Dolphins on Marineland Beach Florida, on the boarder of St. Johns and Flagler Beaches.