Naples Florida offers exquisite sunsets, incredible shopping, championship golf & white sand beaches while being home to some of the most luxurious waterfront estates and condos in the world. But if you want to swim with dolphins, you need to come to the East Coast of Florida. Enjoy a special trip to Miami from Naples Florida, that you're sure to write home about! Keys Adventure Tours lets you choose from different unforgettable Dolphin Experiences. Come on in, the water's fine and we don't bite! Dolphins are the most gentle and intelligent mammals next to humans and even more so once you meet them! Just imagine… you'll be able to swim with Dolphins Miami is an adventurous experience you won't be able to forget.
2 Hour Drive from Naples to Miami
Dolphin Swim Tours From $219
(click here for more information on this and other programs)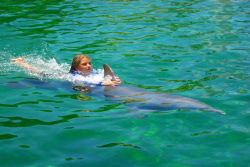 This Dolphin program is perfect for those who are comfortable in water and not afraid of animals. This program includes the Dolphin Swim program, a 30 minute shallow and deep water experience including touching, petting, kissing, and training with the dolphins. A fun and interactive Dolphin Show, Marine Park Tour, and so much more.
All Participants must be 52″(132cm)tall, usually 9 years old and up
Must be comfortable in DEEP water
A 30 minute shallow and deep water dolphin experience including touching, petting, and other trained behaviors with the dolphins
Entrance to Marine Park to see Dolphin and Other Marine Animal Shows
Each dolphin session is unique, based upon the guests and dolphins
Group size with the dolphin is approximately 8 – 10 persons
Transportation Service Available with Uber or Lyft