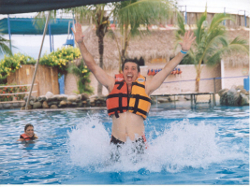 Are you looking for a fun way to interact with dolphins? You can swim with the neigboring Island of Tortola, a short ferry ride away. We have just the program for you! We offer a swim in dolphins St Thomas to Tortola for almost everyone to enjoy.
If you are staying on the island, you will need to take a quick ferry ride, 8:30am daily, from Charlotte Amalie or Red Hook Terminal to Tortola for the dolphin program. Either you will land at West End or Road Town Terminal on Tortola. Remember, you need to take your Passport to gain entrance to this British colony. Once on Tortola, you will take a quick taxi ride to the dolphin facility next to RoadTown.
Can you Swim with Dolphins in St. thomas USVI?
The answer is no but the dolphin program is close by in nearby Tortola. The ferry service from St Thomas to Tortola is very easy and quick, only about 40 minute to 1 hour ride. This swim with the dolphins program on Tortola will be an activity you won't easily forget about and will be a great memory from your Virgin Island vacation.
The Dolphin Facility has been Closed Since Hurricane Irma. It is supposed to re-open Summer 2019.