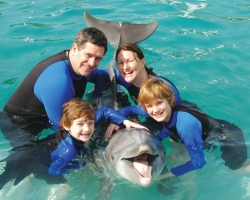 Are you staying on exciting South Beach Miami and looking for a tour that will add to your fun vacation? Then look no more because the Swim with Dolphins Florida South Beach tour is something to see and behold.
The Dolphin World's door to door van service is more than a chauffeur / driver coming to pick you up but a one stop shop for your Dolphin Experience. Your pick up service includes the time with the dolphins, marine animal shows, park time, round trip transportation, snacks and beverages, and a free gift.
Your van is driven by an experience South Florida driver. You need to be experienced in South Florida due to high amount of traffic, confusing roads, and inexperienced drivers on the road. Remember, this is a special day with the dolphins and having Dolphin World do the driving for you will help reduce the stress of driving and enhance your experience with the dolphins and the other marine animals.
Why take a taxicab, especially in Miami or Ft. Lauderdale, where many of the drivers have difficulty speaking and communicating in English, which can be very frustrating. Many of the taxicabs are old and very unreliable transportation in South Florida. Your Dolphin World van is in tiptop shape, clean and safe. Your driver is well groomed, conservatively dressed, and prepared to serve you.
Your day will be predetermined for all times, pick up and drop off, dolphin experience, and shows. So, sit back and relax and have Dolphin World plan your dream with the dolphins and transportation needs. Our website, swim with Dolphins Miami, can help you if you want to book the program without the pick up service. If this is you, please click this link and follow the instructions there.
However, if you want to go on your own, we do offer many activities with dolphins, seals, penguins and tropical fishes. To see a list of all the activities, please click this link < Miami Dolphin Swims and Activities >
South Beach Miami Florida is the premier vacation area for great hotels and beach. It is home to many restaurants and several nightclubs, as well as many retail outlets. Ocean Drive is the easternmost street in South Beach and it is responsible for the South Beach aesthetic that most out-of-town visitors expect among Spring Breakers and Tourists. Also, you have a chance to Swim with the Dolphin too!!