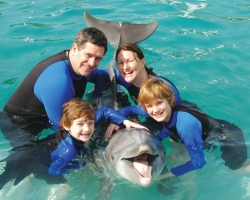 The Swim with Dolphins Naples Florida Tour and Pick Up Service started because many Grandparents live in this beautiful Southwest Community and quit a few of these Grandparents have Grandchildren. What do you think these grandchildren wanted to do? If you guessed they wanted to swim with dolphins, you are correct. So our pick up service here in Naples FL has blossomed because many Grandparents did not want to drive to Miami, a 2 hour car drive.
The Dolphin World's door to door van service is more than a chauffeur / driver coming to pick you up but a one stop shop for your Dolphin Experience. Your pick up service includes the time with the dolphins, marine animal shows, park time, and round trip transportation service.
Your van is driven by an experience South Florida driver. You need to be experienced in South Florida due to high amount of traffic, confusing roads, and inexperienced drivers on the road. Remember, this is a special day with the dolphins and having Dolphin World do the driving for you will help reduce the stress of driving and enhance your experience with the dolphins and the other marine animals.
Your day will be predetermined for all times, pick up and drop off, dolphin experience, and shows. So, sit back and relax and have Dolphin World plan your dream with the dolphins and transportation needs. A chance for swimming with the dolphins Naples area.
Tickets Only and No Pick Up Service
Now, the pick up service has proved to be very popular, there has been a demand too for the tickets only, for those that want to drive yourself. You can do that and you can book your Swim with Dolphins Miami and drive yourself. You will get complete tickets sent to you via email and text with check in time and directions to downtown Miami. Many folks from Naples are excited to come to Miami because its fun, exciting, and a beautiful oceanfront city. So experiencing Miami is a must for anyone staying in South Florida and with Dolphin World you have the opportunity to take our carefree pick up service or you can have that autonomy of driving yourself. Remember, the winter and spring months are super busy, so make your plans soon!