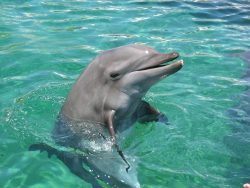 Do you know the swimming with Dolphins locations you are going to? If you say your vacation is in Florida, Hawaii, Mexico or the Caribbean, then we have a dolphin facility for you. To experience your dream being with the dolphins, don't delay. If your vacation is scheduled, plan your dolphin swim encounter now! No matter where you are going, Dolphin World has a dolphin swimming program for you. These programs fill up fast, and there won't be room in the water if you wait until reaching your vacation destination. Leave home with the peace of mind that your swimming session with Cetacean is already scheduled.
In addition to booking your dolphin swim experience for you, Dolphin World is also available to give great suggestions of local accommodations and other activities for your entire trip. We have been in business for over 19 years and our knowledge of the local area will help you plan your perfect vacation. That is the blessing of the Internet, you can communicate with us 24 hours a day with an email of any questions or concerns you may have and we will respond quickly to you so you can make your plans efficiently.
Where do you want to Swim with Dolphins?
If your vacation plans include Florida or Hawaii, an exotic stay in Mexico or a visit to the lush, tropical islands of the Caribbean, Dolphin World has a marine mammal swimming experience for you. We have many swim with dolphins locations and most likely have a perfect location for you. There is some basic information we need to insure that the dolphin program is suitable for you and your family or friends. We need to know how many people want to come and enjoy the dolphins? The group size is limited with the dolphins. Next, if you are bringing children, we need to know the age of the child(ren)? There is limitation with age. Finally, the biggest question is when are you taking your vacation? The dolphin program has high seasons, which included from Christmas Week to Easter Week. This winter to spring season is the busiest time of the year. The other busy season is Summer, June – August, so keep in mind these seasons when booking your reservation. You need to make your reservation very early to guarantee space.
Florida Dolphin Swim Locations
A vacation to the Sunshine State is not complete without a swim with dolphins Florida experience. Travelers to Miami, the Florida Keys, Orlando, Ft Lauderdale, West Palm Beach, Naples, Tampa, and Ft. Myers are all within easy distance of a spectacular dolphin swimming program.
Swim with the Dolphins in Miami
A trip to Miami, South Beach, Fort Lauderdale, West Palm Beach, or Boca Raton is not complete without adolphin swim. You can drive yourself or enjoy our door to door pick up service which includes a Dolphin Swim, Marine Animal Shows, Snacks & Beverages, and a Free Gift. The highlight of the swim with dolphins in Miami is spectacular dorsal fin ride to conclude your swim. Enjoy the wonder of marine wildlife without venturing far from your lavish hotel accommodations. Swim with the dolphins during the day, and stroll down one of South Florida's shopping avenues in the evening.
Discovery Cove Dolphin Swim in Orlando, Florida

Most visitors to Orlando see the Mouse, but not everyone makes it to Discovery Cove for the dolphin swim of a lifetime. Discovery Cove is a paradise of dolphins, eye-catching tropical fish, and a relaxing resort pool and restaurant. A swim with dolphins in Orlando at the reservation-only Discovery Cove provides an adventurous and restorative break from the hustle and bustle of family vacations. This all-inclusive package includes a dolphin swim, coral reef snorkel, swimming at the resort pool, lunch, snacks, towels, sunscreen and more.
Key Largo Area Dolphin Workshop
The in-depth dolphin swim and workshop in Key Largo gives all participants an introductory education about

dolphins. During this dolphin swim experience, you will learn about dolphin behavior, dolphin tricks, dolphin physiology, and dolphin communication. In addition to your dolphin swim, during your Florida Keys swim with dolphins program, you will enjoy marine mammal shows, a snorkel trip, wildlife preserve tour and more! Visitors to the Miami and Key West area are close enough to enjoy this fabulous trip, or you can make it an adventure trip by adding water sports activities, a boat tour of the Everglades, a sea lion swimming adventure and more! Key Largo is close enough to the convenience of Miami and Ft. Lauderdale airports, but far enough away to enjoy the relaxed atmosphere of the Florida Keys.
Key West Wild Dolphin Adventure
The laid back island life makes our wild dolphin Key West program a relaxing and exciting trip. In Key West, you will enjoy a four hour guided boat excursion to find pods of dolphins swimming in the warm, clear gulf waters. Your guide will teach you everything you ever wanted to learn about dolphins. After your boat tour, you will enjoy a snorkel in a coral reef, and the opportunity to see marine wildlife up close. Your day ends with a leisurely kayak paddle in the calm waters surrounding the Keys. After your Key West Dolphin Adventure, you will have ample time to experience the gourmet dining and spirited nightlife of Key West
Swim with the Dolphins in St. Augustine

St Augustine is a small jewel of a city on the east coast, full of romantic ambiance and old world charm. It is best known for its remarkable historic streets, Spanish style architecture, and panoramic bay. Do take time to wander down St. George street, a promenade of sorts, and enjoy the art galleries, quaint shops, and restaurants. Only a few minutes way, you have a chance to swim with the Dolphins on St. Augustine Beach Florida, on the boarder of St. Johns and Flagler Beaches.
A Dolphin Encounter or Swim in Beautiful Panama City Beach

You'll experience the power and playfulness of this amazing mammal during your swim with the dolphins in Panama City Beach. Your experience may include a dorsal fin pull around the dolphin habitat, a dolphin kiss, a dolphin handshake and much more. This interactive program is comprised of two segments. The first segment teaches you about dolphin conservation and familiarizes you with the dolphin's senses. The second segment puts you in the water eye to eye with the dolphin.
Oahu, Hawaii Dolphin Swim

Your trip to the magical cliffs, pounding surf and tropical splendor of Hawaii is complete only after you enjoy a trained dolphin swim encounter at Sea Life Park. This dolphin swimming experience includes swimming with the dolphins and leading them to perform behaviors as well as tours of the Sea Life Park and enjoyment of the park's many amenities. The Dolphin Royal Swim is one of our most exciting swimming with dolphins in Hawaii Oahu programs, and includes an exhilarating ride with two dolphins, full speed through the water. Along with the dolphin swims, you can also snuggle up to some friendly stingrays and other marine mammals during your visit.
Swimming with the Dolphins in Mexico
Lucky for you, dolphins call home the warm waters around Cozumel, Cancun, Mayan Riviera, and Puerto Vallarta, Mexico. Your resort stay in Mexico becomes the vacation of a lifetime with a dolphin swim program.
Cozumel Vacations

The island of Cozumel is the largest of Mexico's Caribbean islands. The tiny island is bursting with activities for local tourist and cruise passengers. You can spend the day shopping, snorkeling, hiking, sailing, fishing, touring Mayan ruins and more. The most fun activity of all is swimming with the dolphins. The swim with dolphins Cozumel activities include guided dolphin swims, snorkeling in pristine coral reefs, and exploring the Mayan ruins. A perfect way to swim with the dolphins, learn about marine life, and see Mexico's Mayan History.
Cancun Dolphin Swim Getaway
While relaxing in Cancun, take some time to enjoy the marine wildlife with a dolphin encounter or dolphin swim in Cancun. Spend time swimming with the dolphins and guiding them through trained behaviors. After the swim, enjoy fun in the sun on Cancun's sparkling beaches. Take a tour of the Isla Mujeres and enjoy all Cancun has to offer.
Playa del Carmen: The Mayan Riviera

A vacation to Puerto Aventuras offers one of the most unique swim with dolphins Playa Del Carmen area. You have the option of a Dolphin Royal Swim or a Dolphin Encounter. For marine mammal enthusiasts, there is also the 1 Day Sea Life Discovery workshop. In addition to swimming with the dolphins, you will get to enjoy encounters with manatees and other sea life. A tour with birds, monkeys and sloths are also included in this marine fantasy adventure. The evening, and days after the tour can be filled with scuba diving, sailing, fishing, golf and just about every outdoor activity imaginable. .
Puerto Vallarta Paradise
Our Dolphin Royal Swim, Dolphin Adventure Swim and Dolphin Encounters have something for everyone visiting Puerto Vallarta, Mexico. In addition to the dolphin swim programs, visitors to swim with dolphins in Puerto Vallarta can also enjoy the Water Park and Marine Animal Shows. Puerto Vallarta is perfect for wind surfing, snorkeling, golf, diving, kayaking and more. For those less inclined to adventure, galleries, spas, dining and shopping opportunities galore await.
Fun with the Dolphins in Los Cabos
Blessed with a perfect climate and a rich marine eco-system filled with diversity and beauty, Los Cabos refers to Cabo San Lucas and San Jose del Cabo, both towns connected by a resort corridor that boasts luxury hotels and resorts. The friendly dolphins swim in their natural habitat, an ocean cove measuring about 7,000 m2, where dolphins feel in their natural habitat and you can enjoy their company to the fullest. So do not hesitate and go swim with the dolphins in Los Cabos.
Swimming with the Dolphins during Your Caribbean Vacation
The Caribbean Sea is filled with thousands of islands, large and small and full of adventure. Dolphin World can help you book your dolphin swim experience in the Bahamas, Dominican Republic, British Virgin Island, or Jamaica. Each Caribbean destination offers so much more than just the dolphin swimming opportunities, and we can help you plan your Caribbean dream vacation, as well. .
Getaway to Nassau and Beautiful Islands

When the Bahamas beckon, there are endless activities to keep visitors busy. If you have always wanted to swim with the dolphins and are planning a vacation to Nassau / Paradise Island, you can enjoy your beautiful and relaxing vacation and an adventurous dolphin swim. The swim with dolphins in Nassau Workshop begins and ends with a scenic ride from Paradise Island to the crystal clear waters of Blue Lagoon where you will swim with the dolphins, including an adrenaline rushing nose-push ride. In addition to swimming with the dolphins, you will learn about their training, behavior and socialization.
Nassau is a vacationer's paradise. In addition to the famous resort Atlantis, there are hundreds of other places to explore. Climb up the Queen's Staircase, a giant set of steps carved into a limestone cliff. For a dive or underwater adventure, try Stuart's Cove. Shopping, dining, nightlife, spas and every recreational activity await you after your swim.
Bimini is small and beautiful Bahamian island. This is home to huge populations of wild dolphins, bottlenose and spotted. If you would like a dolphin encounter in the wild, this is the place to be.
The Dominican Republic

The Dominican Republic is famous for miles of white sandy beaches and luxurious all-inclusive resorts. The island is also steeped in rich cultural history. In addition to the Dominican Republic swim with dolphins in Puerto Plata, North Coast, and Natural swimming with dolphins in Punta Cana, South East Coast, visitors to the Dominican Republic can also spend hours touring old monasteries, sugar plantations, churches, art galleries and museums. Our Dominican Dolphin experience also includes encounters with sea lions, a visit to the tiger grotto and a natural dolphin swim in the sparkling turquoise waters of the Caribbean.
The British & US Virgin Islands: Tortola & St Thomas, & St Johns

Tortola is the largest island in the chain of British Virgin Islands. Its secluded bays and yacht filled harbors provide plenty of places to snorkel, fish, swim, and relax. An amazingly safe and comfortable island, Tortola's greatest assets are its friendly residents. The island is mountainous and green, but somewhat arid. Because there is not a large amount of runoff into the sea, the reefs around the island are crystal clear and perfect places for diving and snorkeling. Our swimming with dolphins in Tortola, or a quick ferry ride from St Thomas, or St John, will exceed everyone's expectations as a perfect way to remember the vacation.
Ocho Rios, Jamaica: Lively and Languid

In addition to swimming with the dolphins in Jamaica Ocho Rios & Negril your adventure also includes kayaking in glass bottomed kayaks and a stingray adventure. Back onshore, there is shopping at the open air markets and miles of sandy beaches to stroll. If you are in the mood for more adventure, you can climb the Dunn's River Falls, a beautiful cascade of falls and boulders. It is worth the trip to taxi around and view the architecture and neighborhoods of Jamaica.
Grand Cayman, Cayman Islands: The Caribbean Jewel

Grand Cayman's Seven Mile beach is one of the finest beaches and ocean water in the world. After you explore the beautiful beaches, you may be ready for some excitement and the swim with the dolphins Grand Cayman program may be the action you are looking for. The Royal Dolphin Swim is where you get the most invigorating and deep water actions with the dolphins, like the dorsal fin ride and the toe push out of the water. The Dolphin Swim / Snorkel is for those that want to understand the dolphin better because you will have a Mask and Snorkel on and will be able to see and touch the dolphin in their under water world. If you are coming to Grand Cayman from a Cruise Ship or staying on this beautiful island, you need to add the dolphin experience to your list of things to do here.
Anguilla Island Vacations

This brand new dolphin facility is located at the sea at Blowing Point beach, on Anguilla's southern coast. Blowing Point has a ferry which travels to St. Maarten, a 20 minute crossing. St. Maarten is a popular destination for Cruise passengers and local tourists. Once you are in Anguilla, you will discover that there are many adventure tours to do; one of the most preferred attractions in this great tourist destination is swimming with dolphins in Anguilla. This is your opportunity to be close to these fantastic and intelligent marine mammals, scroll down this page for more information and photos of this amazing activity.
No matter where your vacation plans take you, there is a dolphin swimming adventure waiting for you, along with hundreds of other activities to make your vacation memorable.