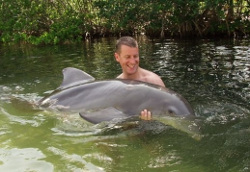 Key Largo is an island in the upper Florida Keys archipelago and, at 33 miles (53 km) long, the largest of the Keys. It is also the northernmost of the Florida Keys in Monroe County, and the northernmost of the Keys connected by U.S. Highway 1 (the Overseas Highway). Its earlier Spanish name was Cayo Largo, meaning Long Key. This is a great place to have a vacation because it has so much to offer from watersports, beautiful hotels, and great places to eat.
Major Key Largo Attractions
Key Largo is a popular tourist destination and calls itself the "Diving Capital of the World" because the living coral reef a few miles offshore attracts thousands of scuba divers and sport-fishing enthusiasts. Key Largo's proximity to the Everglades also makes it a premier destination for kayakers and ecotourists. Key Largo is situated between Everglades National Park to the north-west and John Pennekamp Coral Reef State Park to the east, the first underwater park in the United States and the site of the only living coral barrier reef in the continental United States. Also, we can not forget one of the biggest attractions in Florida, the swim with dolphins Key Largo area program. Our program is a full day of fun, dolphins and snorkeling.
Getting to Key Largo By Plane
Miami International Airport, one of the busiest international airports in the world, is the main airport serving the Miami metropolitan area, catering to over 35 million passengers a year. Identifiable locally, as well as several worldwide authorities, as MIA or KMIA, the airport is a major hub and the single largest international gateway for American Airlines, the world's largest passenger air carrier. Miami International Airport is the United States' third largest international port of entry for foreign air passengers (behind New York's John F. Kennedy International Airport and Los Angeles International Airport), and is the seventh largest such gateway in the world.
Key Largo Accommodations
There are many hotels on Key Largo, from small quaint Mom and Pop type places to elegant 4 star hotels. Also near by is Tavernier and Islamorada for more accommodation choices.
Getting Around Key Largo
Key Largo is connected to the mainland in Miami-Dade County by two routes and driving by a car is the best way to travel to the Florida Keys. The Overseas Highway, which is U.S. Highway 1, enters Key Largo at middle of the island and turns southwest. Card Sound Road connects to the northern part of Key Largo at Card Sound Bridge and runs southeastward to connect with County Road 905, which runs southwest and joins U.S. 1 at about mile marker 106. These routes originate at Florida City on the mainland.