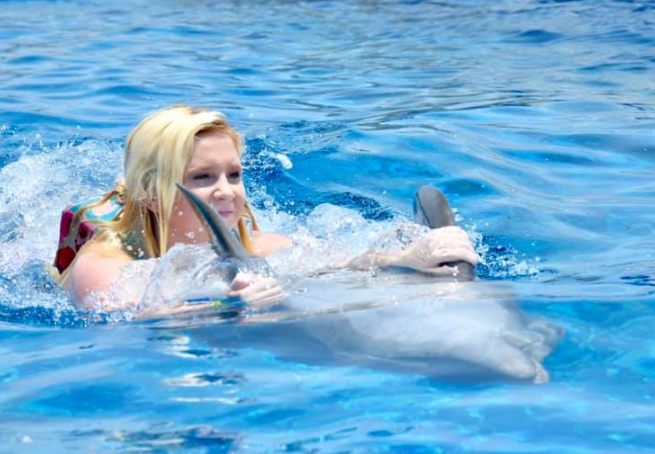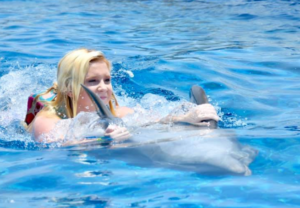 Jacksonville may be the home of Tim Tebow but the swim with the dolphins near Jacksonville is a close 2nd as popular. The dolphin program is only 1 hour south on St Augustine Beach. This program is perfect for anyone 5 years old and up, so why not enjoy this amazing activity.
You don't have to be a Marine Biologist or have to study Animal Sciences to enjoy these great animals. We have just the program for you! We offer Dolphin Programs from the Dolphin Immersion for swimming with the dolphins, Dolphin Encounter for non-swimmers, Dolphin Trainer of the Day for the aspiring dolphin handlers, and the Dolphin Summer Camp for children and young adults.
You will enjoy the 1 hour drive down the coast from Jacksonville to your swim with dolphins St Augustine, an exclusive, reservations-only tropical paradise offering a once-in-a-lifetime marine animal adventure. During a visit, you will have the rare opportunity to swim and play with bottlenose dolphins on this beautiful beach front facility. Plus, you can extend your day by either spending the day on the many beautiful surrounding beaches or a visit to historical St. Augustine. You can make it a St. Augustine vacation to remember!!
Jacksonville (often called Jax), is the largest city in the U.S. state of Florida in terms of both population and land area, and the largest city by area in the contiguous United States. Jacksonville is in the First Coast region of northeast Florida and is centered on the banks of the St. Johns River, about 25 miles (40 km) south of the Georgia state line and about 340 miles north of Miami. The Jacksonville Beaches communities are along the adjacent Atlantic coast. The city was named after Andrew Jackson, the first military governor of the Florida Territory and seventh President of the United States. Harbor improvements since the late 19th century have made Jacksonville a major military and civilian deep-water port. As with much of Florida, tourism is also important to the Jacksonville area, particularly tourism related to golf. Also swimming with the dolphins is a short distance away in St. Augustine, only 1 hour away from Jacksonville and Jacksonville