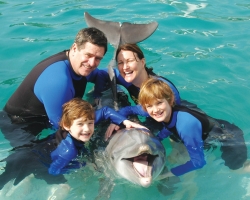 Are you traveling to the South Florida area and looking for things to do besides laying on the beach? The Dolphin Swim Miami should be top on your activity list. We offer swimming with the dolphins, dolphin encounter shallow water program, and Seal swims. One of these marine animal programs has to be perfect for you!
You can have an in-depth program about dolphins and other marine life on famous Key Biscayne Miami, which is only 20 minutes from Miami Beach, less than 1 hour from Ft. Lauderdale, and less than 2 hours from West Palm Beach by automobile. We have just the program for you!
We offer the Miami Dolphin Swim programs for those who can meet the height requirements (at least 52 inches or 132 centimeters tall) and Dolphin Encounters and Seal Swims for 5 years old up to enjoy.
These programs are designed to be fun, very informative, and interactive for you. This may be a great way for a family to spend quality time together, a unique and romantic experience for a honeymoon couple, or a special event for young adults learning about marine biology and land animal behaviors. Don't have transportation? You can always take Uber or Lyft from any destination in South Florida.
Dolphins love shallow water, but competition for tickets runs deep. Book early!
Your fun day with the dolphins will include an interactive talk on such topics as the anatomy, physiology, intelligence and communication methods of dolphins, other marine and land animals, as well as environmental issues and an overview of marine mammal training by a professional marine animal handler. Again, this is a exciting introduction to all different sorts of animals and then best of all you get to be in the water with the Dolphins. A dream of a life time. You will come away truly satisfied and happy that you had a chance to meet your new marine friends. Need more traveling information to Miami? Swim with Dolphins Miami can help you with other activities, hotels, and flights information to this beautiful and tropical destination upon request. Request a brochure to get more local information.