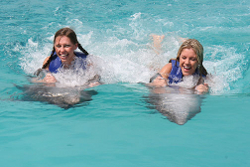 Are you ready for a spectacular Caribbean vacation? If you appreciate gourmet food, world class duty free shopping, vibrant nightlife, pristine beaches, year-round warm climate and a cosmopolitan atmosphere with a Caribbean twist, Sint Maarten – Saint Martin is for you!
SAINT MARTIN – SINT MAARTEN IS CLOSED UNTIL FURTHER NOTICE – PLEASE CHECK OUT OUR OTHER CARIBBEAN LOCATIONS.
St. Martin / Maarten is a Caribbean Island Jewel and Close to the Dolphin Facility in Anguilla
This brand new dolphin facility is located at the sea at Blowing Point beach, on Anguilla's southern coast. Blowing Point has a ferry which travels to St. Maarten, a 20 minute crossing. St. Maarten is a popular destination for Cruise passengers and local tourists. Once you are in Anguilla, you will discover that there are many adventure tours to do; one of the most preferred attractions in this great tourist destination is swimming with dolphins. This is your opportunity to be close to these fantastic and intelligent marine mammals, scroll down this page for more information and photos of this amazing activity.