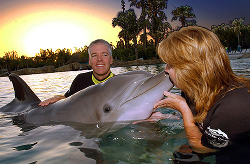 Thinking of an Orlando Florida Vacation? There are so many things to do here especially the swim with the dolphins in Orlando program. This is done at Discovery Cove with is a 1 or 2 Day All-Inclusive package. Some guests do not have the time to spend 2 days, so the one day dolphin package in Orlando would be perfect for you.
General Orlando Vacation Information
Orlando is a major city in central Florida, USA and is the county seat of Orange County, Florida. It is also the principal city of Greater Orlando. The Orlando-Kissimmee is Florida's third-largest metropolitan area, behind Miami and Tampa. Orlando is also home to the University of Central Florida, which is the second largest university in Florida in student enrollment and has the 6th largest enrollment in the nation.
Orlando Major Attractions
Orlando is one of the biggest tourist destinations because of the nearby theme parks and resorts. Close to International Drive is Universal Orlando Resort, which includes two theme parks, three hotels and a large shopping district. SeaWorld Orlando is a marine theme park featuring Kraken, the biggest roller coaster in the Orlando area, as well as Believe, the all-new Shamu adventure. About 40 minutes outside of Orlando is the well-known Walt Disney World. Comprised of four theme parks, two water parks, dozens of hotels, three shopping and dining districts, eight golf courses and much more, it is the largest privately managed tourist destination on the planet. Not far from Disney World lies the Alligator Capital of the World: Gatorland. Also, don't forget about water park Wet 'N Wild, located right on International Drive. Finally, one of the newer attractions on the block is the swim with dolphins in Orlando program. This activity is a must for anyone that is 6 years old and up. Remember, Discovery Cove is a full day of activities which includes the dolphin swim plus a host of other watersports and you can save money and add another at Sea World. <Discovery Cove Orlando Pricing Information>
Getting to Orlando By Plane
Those traveling by air can enter via Orlando International Airport (Airport Code: MCO), Orlando's primary airport. A secondary airport that serves the Central Florida area is the Orlando-Sanford International Airport (Airport Code: SFB) located in Sanford, a city north of Orlando. Flights enter Orlando International Airport from all over the United States as well as international destinations in Europe, South America, Mexico, and Canada.
Orlando Accommodations
With a hotel around virtually every corner (actually 4 or 5 around every corner) it seems impossible to throw a rock and not hit a hotel. There are Orlando hotels to meet every traveler's need, whether it be a hostel or a 5-star resort, although many visiting families often prefer to rent their own private villa as they usually provide much more personal space and have their own private facilities. There are also a large number of lodgings in the surrounding cities and towns.
Getting Around Orlando
The car is still king in Orlando, and it is a very easy and convenient (if not congested) way to get to your destination. The roads are all wide and easy to drive on with all the major areas sign posted, but traffic jams around downtown are common in the afternoons, and around the tourist areas on Saturday nights.
In Orlando, the main tourism area is International Drive, a strip of road that runs parallel to I-4 for about 10 miles