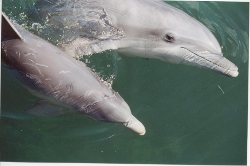 Key West is an island in the Straits of Florida at the southernmost tip of the Florida Keys. The city is politically within the limits of Monroe County, Florida, United States. The city also occupies nearby islands and portions of nearby islands. The island is about 4 miles (6.4 km) long and 2 miles (3.2 km) wide.
Key West claims to be the only city in the lower 48 states never to have had a frost. Because of the proximity of the Gulf Stream in the Straits of Florida, about 12 miles (19 km) south and southeast, and the tempering effects of the Gulf of Mexico to the west and north, Key West has a notably mild, tropical climate. Precipitation is characterized by dry and wet seasons. The period of November through April receives abundant sunshine and slightly less than 25 percent of the annual rainfall. This rainfall usually occurs in advance of cold fronts in a few heavy or light showers. May through October is normally the wet season, receiving approximately 53 percent of the yearly total in numerous showers and thunderstorms. At any rate, Key West is the driest city in Florida.
Major Key West Attractions
Key West is a great place for the family. There is plenty to during the day…for those that are awake. Enjoy an early night and prepare for the next days adventure. However, if you are traveling with young ones stay in a hotel off the main streets. For those who stay out all night you may not get to do these things but you should try.
One of the most popular activities is the Swim with Dolphins Florida Keys tours, where you get picked up from any hotel or residence and brought to the Dolphin facility in the Upper Keys. There are no dolphin facilities in Key West that is why this van tour is so popular. Dry Tortugas National Park, Details daily trips to Fort Jefferson, by ferry or seaplane. Diving in Key West, offering Daily Dive trips to the reefs near Key West. Snorkeling in Key West, the clear waters of Key West are great for snorkeling and swimming alike. Be sure to visit the waters surrounding Fort Jefferson, Dry Tortugas National Park. Sunset Watercraft, Key West offers a host of sightseeing opportunities, including romantic sunset cruises. At Cow Key Marina on Stock Island. Reasonable prices for the 28 mile round-the-island jet ski run (1.5 hours). The jet skis themselves are a bit beat up, but the motors hum right along at high speed. Guides are safe and knowledgeable, but give the renter plenty of rope to enjoy. Also on Stock Island is the Wild Dolphin Encounter tour, a half day of fun with Wild Dolphins.
Key West Fishing, offers charters, guides, and fishing information for Key West. Includes private and group fishing charters. Sunset Festival, at Mallory Square in Key West (where Duval Street meets the Gulf of Mexico). This event begins every evening a few hours before sunset and is much like a street carnival, with vendors, performers, food, and fun. Also a great photo op for some of the most beautiful sunsets.
Getting to Key West By Plane
Key West International Airport (Airport Code: EYW), served by several airlines, though a short runway prevents big jets from landing. Direct flights are available from Atlanta, most major cities in Florida, and also some flights to the Bahamas. Fares tend to be quite high. A popular route to fly in is via Miami International Airport.
Key West Accommodations
There are many Bed and Breakfast type accommodations in Key West. Most are really charming and very comfortable. You will be able to find all types of Key West hotels from all the chains to privately owned. Prices are very high during the high season, from December through May.
Getting to Key West by Car
The Overseas Highway terminates in Key West, and links all the towns in the Keys with mainland Florida, which provides links into the US Interstate network, so driving to Key West is straightforward, though driving around town can be difficult and long-term parking may be expensive.
From the north: take the Florida Turnpike south and follow the signs for Homestead and Key West. The Florida Turnpike ends at US 1 in Florida City. Follow U.S. 1 south into the Florida Keys. From Florida's West Coast: take 1-75 Alligator Alley east to the Miami exit, and south to the Turnpike Extension.