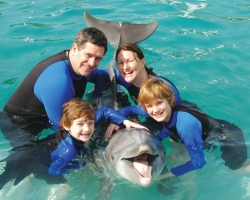 Are you taking your vacation or living in West Palm Beach? You may be looking for things to do. Would you consider the Swim with Dolphins West Palm Beach ticket to Miami? Miami is about 1 1/2 to 2 hours away by your own transportation or Uber/Lyft.
Unfortunately, in Palm Beach county there are no dolphin facilities. So you will need to make the effort and come to Miami to see and play with them in a small and personalized group. The drive is pretty easy, straight down (south) interstate 95 to Miami. We will send you complete tickets and directions by email and text, so you won't be able to get lost.
Your day will be predetermined times for your dolphin experience and shows. So, sit back and relax and have Dolphin World plan your dream with the dolphins, a chance to go swimming with the dolphins West Palm Beach area.
Your ticket will get you to experience the Swim with Dolphins Miami on your own. You will have the 30 minute dolphin swim program, dolphin shows, sea lion show, and marine park tours. An amazing half day of activities. You will get complete tickets and directions to Key Biscayne / Downtown emailed to you so you can make this journey to Miami on your own.
We know West Palm Beach is a growing city and could use our service and activities for sure. The area is known as the West Palm Beach–Boca Raton–Boynton Beach corridor. The skyline of this beautiful city is constantly changing. New residential buildings, condos, and attractions are common downtown, and an increasing number are being built. The city recently built a new convention center. As you can read the city is expanding in leaps and bounds and we look forward to you contacting us to see how the swim the dolphin program will be part of your vacation or time off from work.