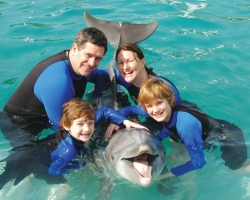 Are you staying on exciting South Beach Miami and looking for a Dolphin Program that will add to your fun vacation? Then look no more because the Swim with Dolphins Florida South Beach Ticketing is something to see and behold.
The Dolphin Swim is the most popular program because it will offer you a chance to get a ride with the dolphin across the crystal clear pool. You will have a smile from ear to ear as you glide across the surface of the water. Everyone loves the dolphin ride but there are many of you out there that are not comfortable swimming or in deep water. So don't worry we have the program for you.
The Dolphin Encounter is perfect for the non-swimmer and those not comfortable in deep water. In this program, the dolphin program is brought up to you in gentle and easy manner where you get to pet, play and even kiss them. Smile for the camera because you will have some great photos of you and the dolphins during the dolphin encounter.
Transportation is pretty easy to Key Biscayne / Downtown Miami, you can drive your own vehicle and there is plenty of parking at the park. Or, you can take Uber / Lyft from any South Florida Location and especially from South Beach. There are plenty of drivers waiting to pick you up and bring you back to your hotel or residence. The drive from South Beach to Key Biscayne Miami is about 20 to 30 minutes by car.
Your day will be predetermined for all times, dolphin experience, and shows. So, sit back and relax and have Dolphin World plan your dream with the dolphins and fun day in Miami. Our main website, swim with Dolphins Miami, can help you if you want to book the program or you can click the links below to make your reservation. Also don't hesitate to call one of our pleasant phone reps to help you also.
However, if you want to go on your own, we do offer many activities with dolphins, seals, penguins and tropical fishes. To see a list of all the activities, please click this link < Miami Dolphin Swims and Activities >
So welcome to South Beach Miami Florida a premier vacation area for great hotels and beach. It is home to many restaurants and several nightclubs, as well as many retail outlets. Ocean Drive is the easternmost street on South Beach and it is responsible for the Deco Drive aesthetic that most out-of-town visitors expect among Spring Breakers and Tourists. In conclusion, you will have a great vacation here and don't forget to add a Dolphin Program too!!