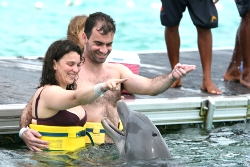 Hola! Are you looking for a Swim with Dolphins Punta Cana and Sea Lion Swim program? We have just the program for you ina brand new facility. This beautiful state of the art facility, which means the dolphins are getting the best of everything here and so are you! You will love how the dolphins are treated and care for here in Punta Cana.
You may have chosen Punta Cana region for a vacation because of the miles of sandy beaches and amazing all-inclusive resorts. You may need to spice up your relaxing vacation with a little dolphin fun. We offer a Royal Dolphin Swim program is perfect for 8 years old and up to enjoy 40 minutes mostly in deep with water with two dolphins where you get the doral ride and the famous foot push.
These programs are designed to be fun, very informative, and interactive for you. This may be a great way for a family to spend quality time together, a unique and romantic experience for a honeymoon couple, or a special event for young adults learning about marine biology and land animal behaviors.
Dolphin Swimming Punta Cana

and Bavaro Dominican Republic

Punta Cana and Bavaro is a Dominican Republic vacationer's dream come true. With all-inclusive resorts convenient to Punta Cana's very own airport, traveling is easy and hassle-free. Located on the southeastern side of the Dominican Republic, the beautiful beaches and sparkling turquoise waters draw both European and North American visitors each year.

But what makes a Punta Cana-Bavaro visit truly unique, is a chance for the Royal Dolphin Swim, Dolphin Swim Adventure or the Dolphin Encounter in the crystal clear pool waters! This incredible program allows you to interact with these amazing creatures in their natural environment. The incomparable Punta Cana Dolphin Swim and Dolphin Encounter Programs will make your Caribbean Island experience an unforgettable one.