Many tourist find Transportation to Anguilla by Ferry or Sea. The Ferry option is the most popular for guests coming from St Martin (French Side) / St Maarten (Dutch Side).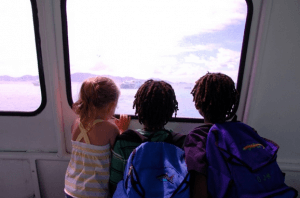 Ferry Shuttle
Ferry transportation to and from Anguilla is convenient, simple and inexpensive.
The ferries run all day between the hours of 7:30am and 6:15pm (departing Anguilla). The last return ferry to Anguilla departs St. Martin at 7:00pm. Ferries run approximately every 30 to 45 minutes, and the trip takes about 25 minutes.
Regular one-way fare is US $15 or EC $40 for adults and children six years and older. Children 2 to 5 years old are US $10.
Ferry Departure Tax and Immigration
Departure tax applies to all tourists 12 years and older departing Anguilla through the Blowing Point Ferry Terminal. The departure tax for day trips is US $5 or EC $13.40. Residents of Anguilla and residents of St. Martin/St. Maarten, 12 years and older, are also subject to a US $5 departure tax through the Blowing Point Ferry Terminal. Departure tax from St. Martin is US $5. For departing tourists, the tax is US $20 or EC $53.60. Rates are subject to change.
Ferry to Dutch St. Maarten
An alternate, some ferries travel from the Blowing Point Ferry Terminal to the airport on the Dutch side of St. Maarten. The fare for this trip is $45 one way/$75. round trip for a Child 1-11 years, and $55 one way/$90 round trip for an adult. All prices in USD.
Departure times are approximately 7:30am., 9:30am., 12:30pm and 4:30pm and at any time upon request. More details on the time and frequency of this trip can be obtained by calling the individual ferry companies listed below. Rates are subject to change.
CHARTERS
Boats are commonly used as ferries and as charters. When used as public transportation at regularly scheduled times this is referred to as ferry service, whereas when scheduled upon request they are considered charters.
GB Express
Ride in style with GB Express, Captain by Lyle Connor with over twenty years of experience on the sea. Daily regular scheduled transfers between St. Maarten's Princess Julianna Airport and Anguilla. All prices in USD plus departure tax from Anguilla. Call for more information and departure times. All prices USD.
Tel: 1 (264) 235-6205/7010, 1 (321) 406-0414
afscs@anguillanet.com
www.anguillaferryandcharter.com
Link Ferries
Link Ferries also offer a reunion, greet and transfer service from the Princess Juliana Airport to Anguilla. This service must be booked in advance (no deposit required). All prices USD.
Tel: 1 (264) 729-0654/1 (264) 235-3290
After hours, call 1 (264) 497-2231
fbconnor@anguillanet.com
http://link.ai
Funtime Charters
Departs directly across from the Princess Juliana Airport in Dutch St. Maarten and arrives at Blowing Point, Anguilla. Times vary; please call ahead for details. Reservations required.
Tel: 1 (264) 497-6511/1 (264) 235-8106/1 (866) 334-0047
funtimecharters@yahoo.com
http://www.funtime-charters.com
MV Shauna Ferries
The MV Shauna Ferries is a public ferry that can be chartered privately for trips between the St. Maarten Airport, on the Dutch side of the island and Anguilla. When serving the public and operating on its traditional schedule. Special charters are available for parties of four. All prices USD.
Tel: 1 (264) 476-0975/1 (264) 772-2031/0542
myshauna6@hotmail.com
CRUISING/BAREBOATING
All boats cruising in Anguilla waters need to have an Anguilla Marine Agent for cruising, customs and immigration assistance.
The Customs & Immigration entry port for private boats landing in Anguilla is located at Sandy Ground, and is open from 8:30am — 12:00pm, and 1:00pm to 4:00pm. For communications with the Sandy Ground Customs & Immigration port, boats need to tune into VHF channel 16.
If you came to this page to swim with the dolphins in the Caribbean, you will need to come to different island.