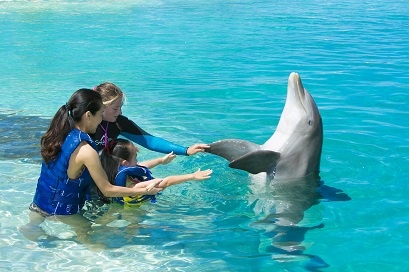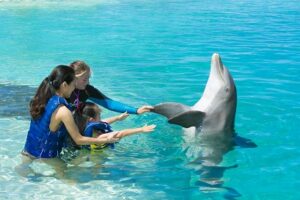 Hello! Are you looking for a fun way to interact with dolphins, marine animal, land, and winged animals? You don't have to be a Marine Biologist or have to study Animal Sciences to enjoy these great animals. We have just the program for you! We offer Marine Animal Workshops and Vacation Packages for almost everyone to enjoy. A chance to swim with Dolphins Oahu, Hawaii.
Sea Life Park Hawaii is located on Oahu – one of Hawaii's most famous islands – known for its natural beauty, history, culture, and attractions. The Dolphin facility adds to Oahu's magic by providing a unique opportunity to interact with exotic sea life and animals. From swimming with dolphins and sea lions to sitting in on a penguin show, from feeding sea turtles to diving with rays, no other park gets you this close.
Located near the famous surf of Waikiki Beach, Sea Life Park Hawaii features a beautifully designed park with reefs, lagoons, pools, and theaters. We also provide guests with access to restaurants, snacks, lockers, restrooms, dressing rooms, and a spacious parking lot.
Both adults and children can take part in our thrilling water activities and exhilarating encounters with marine mammals.Give your entire family an adventure to look forward to – make a reservation today.
The park is open daily from 10:30 a.m. to 5:00 p.m.