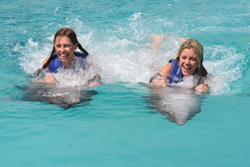 Hola, are you ready for a Mayan Riviera vacation? The Mayan Riviera also known as Riviera Maya, is a tourism district following the coastal Highway 400 which parallels the Caribbean coastline of Quintana Roo, Mexico. This district historically started at at the city of Playa del Carmen and ended at the village of Tulum, although the towns of Puerto Morelos situated to the north and between Playa del Carmen and Cancun as well as the town of Puerto Aventuras situated south of Playa Del Carmen are both currently being promoted as part of the Riviera Maya tourist corridor. That is why the swim with the dolphins Playa del Carmen program is so popular and one of Mexico's exciting animal attraction.
Swim with Dolphins in Riviera Maya Area
Are you looking for a fun way to interact with dolphins, marine animal, land, and winged animals in the Mayan Riviera area? You don't have to be a Marine Biologist or have to study Animal Sciences to enjoy these great animals. We have just the program for you! We offer Marine Animal Workshops and Vacation Packages for almost everyone to enjoy. A chance to swim with the Dolphins in the Mayan Riviera (Playa del Carmen) Mexico.
A dynamic and fun program, the Swim with the Dolphins program allows you experience the magic of swimming in deep water or shallow water experience with dolphins while you perform exhilarating activities with them. Also, you will have a chance to discover the beautiful Puerto Aventuras area, where you can eat and shop in this modern quaint Mexican town. This town is only a 20 minute taxi ride from Playa Del Carmen Hotel Zone (Free Transportation available from most resorts). The beauty, grace and intelligence of dolphins will never cease to amaze us. It will fulfill your dreams, if you join us in one of our exciting programs in Mayan Riviera Mexico coastal town!